Below is the correct way to list your Advertisement as per our Terms & Conditions.
ALL ADVERTISEMENTS MUST INCLUDE YOUR LOCATION IN THE

"SUBJECT"
This clearly shows in RED FLASHING on the Forum Index.
Attachment: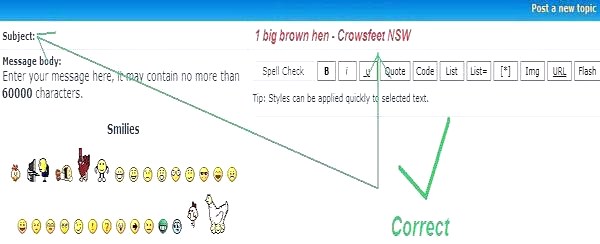 locationexample.jpg [ 38.54 KiB | Viewed 3008 times ]
Attachment:
locationexample1.jpg [ 39.27 KiB | Viewed 3010 times ]
All Advertisements that do not include the
LOCATION in the "SUBJECT" & The correct Topic Icon
in "For Sale" "Wanted" "Swap" "Fertile Eggs for sale & Wanted" & "Accessories"

will

be removed without notification.
Topic Icons in POULTRY & WATERFOWL "FOR SALE" & "WANTED", FERTILE EGGS "FOR SALE & "WANTED" and POULTRY ACCESSORIES FOR SALE & WANTED

When you start a new topic you will see at the top the 3 topic icons which are..
FS
= For Sale
W
= Wanted
i
= Information
Attachment: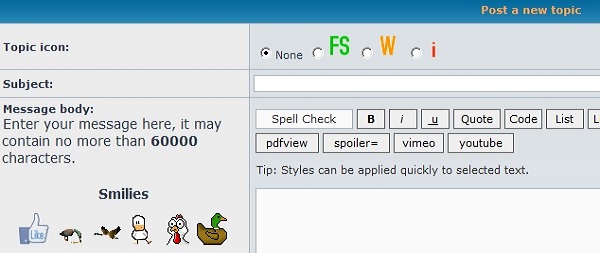 topicicon.jpg [ 43.82 KiB | Viewed 2130 times ]
Please select either
FS
or
W
(NOT the "i") for your advert. You no longer need to have "for sale" or "wanted" in the subject line but

YOU MUST

include your Location in the subject as per normal.
IMPORTANT NOTE
-
The Topic icons are

mandatory

for ALL adverts from Today 7/9/13 you

MUST

select the appropriate icon for your advert.



Admin