AS NEW GREATLANDER 3TTH Greatlander Top Hatch Egg Incubator
FOR SALE $1,3950 Pick up Pakenham, Victoria.
Purchased March this year and still under warranty.
Sadly circumstances have changed and we can no longer raise chickens.
Product details in post below. If you live in Melbourne you can save yourself the shipping cost!
Greatlander 3TTH Top Hatch - Split-Cabinet Automatic Egg Incubator
• 264 Chicken Eggs Setting Chamber - Automatic turning and LED lighting
• 90 Eggs Hatching Chamber - Fluff-filters, soft fans, 2nd water tray, LED lighting
• Top Hatch - Easy access of the humidity tray and for maintenance
• Colourbond Steel Non-Combustible Foam Sandwich Panels - Coldroom 50mm Panel Construction
• Plastic Egg Trays Included. Additional trays for all species available
• External Water Fill plumbing kit Included
• Dual on-call Heating Elements - The most economical incubator to run and to maintain in its class.
• Dual-mode humidifier included - Ultra Sonic Vapouriser and Cool Micro Mister for the heat, the tropics and for the outback
• Sanitising Function - chemical-free disinfection of the eggs and of the interior surfaces
• Large Observation Window, double glazed
• Australian C-Tick; AS/NZS Electrical Safety Standards Compliance
• Comprehensive user manual
• Qualified technical support. Expert-breeder feedback, advice and user-support
• Inexpensive Comprehensive Spares & Accessories
Attachment: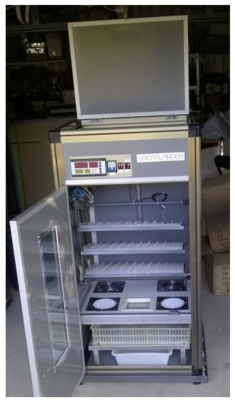 Screen%20Shot%202018-08-18%20at%204_30_32%20PM.png [ 114.49 KiB | Viewed 532 times ]