PHOTO COMP NUMBER 40 - Its a MALES World

Its all about the males in the poultry world

Just photos of your roosters, drakes, peacocks, toms ect... NO HENS, No people, dogs, cats, cars ect..... in the photos, just the MALE fowl
Prizes
First prize is............
48 Egg Automatic Incubator & Free Egg Candler
Features:
Hatching 48 chicken eggs, 24 goose eggs
The automatic egg turner, which turns the eggs every two hours.
Turbo fan can provide excellent air circulation and even the temperature.
Temperature can be adjusted at a range of 30°C to 42°C which makes this product suitable for almost all poultry.
You can also set the temperature's adjustable range to avoid mistakes for future hatching.
Temperature Alarm 2 function: Low temperatur alarm-( AL ) and Higher temperatur alarm-(AH)
It is factory set to sound at 1℃ over or below the set temperature.
Humidity Alarm (AS) It s factory set to sound at 45% humidity.
Built-in thermometer and display on LED panels.
Calibrating temperature sensor reading (CA )
Temperature Upper and lower limit set HS-(High Set) and LS-(Low Set)
Heating Element HU-(Default setting is 18) and HD-( Default setting is 11)
LED Display Symbols 8 models: AL, AH, AS, CA, HS, LS, HU, HD
Specification:
•Material: Plastic
•Large Capacity: 48 chicken eggs
•Power supply: 220~240V, 50/60Hz.
•Power cable length: about 1.5m
•Power: 160W
•Size:44cm × 44cm × 24cm
•Gross Weight: About 6.4 KG
•Comes with one free egg candler (The candler color will be sent by random)
•Includes English manual
Attachment: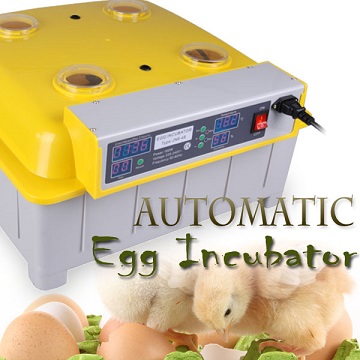 001.jpg [ 44.59 KiB | Viewed 3754 times ]
*************************************************************************************************************************
Second prized is
an APF quality coffee mug and 2 x quality APF bumper stickers
*************************************************************************************************************************
Third prize is
2 x quality APF bumper stickers
*************************************************************************************************************************
Great prizes!!!!!!



Do you want to win?



Well all you have to do is take a picture of your roosters, drakes, peacocks, toms ect... any MALE fowl (NO HENS aka FEMALES IN THE PICTURE) and THATS IT! you could win!

Entries are OPEN NOW and close 11/8/13

Thank You
Online Show Manager