We have a lot of feral pigeons around our farm, a lot of sheds for them to nest in and a lot of pigeon poop. I admit they are not my favorite birds. But one special one caught my eye this morning. It was eating the left over chicken crumbles at our back door. The ferals keep well away from our house so I knew this one was a little different. My husband noticed the bands on it's legs so we figured it's someone's pet. It spent the whole day under our back verandah eating what the chooks left behind, so by 5pm, I didn't think it was planning on doing much more flying home tonight. It looked like it was trying to get in our house through the back window so I opened the screen door and in it walked. So I thought I'd catch it and cage it, write down the numbers on it's leg bands and contact our state racing pigeon association. I left a message and am waiting to hear back from them as to what to do next. It has been eating plenty of budgie seed since I caught it. And it has fresh water. Oh and I think it's a girl because it's had a few of the feral boys dancing around during the day, trying to catch her eye.
So have I done the right thing so far?
I hope I haven't caused it to loose it's pigeon race.
Attachment: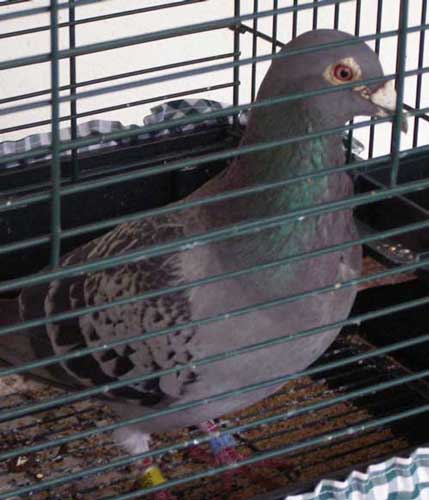 guest-pigeon.jpg [ 28.16 KiB | Viewed 2215 times ]