Hi Nelly
Thanks so much for taking the time to reply. WOW, a lavender, really? And here I was thinking maybe a dun, it certainly never entered my head that it could be a lavender - You have made my day. Some happy news after a rotten few days spent with the vet trying to save 3 of my pet sheep. Maybe my question should be regarding the colour genetics of the brother/sister parents? I had expected to get blues & blue splashes because of parents colouring but that didn't happen. The grandmother is a dom white carrying blue & mated to black (definate,3rd gen black - not dark blue) produced the parents along with 3 dom whites and a solid dark blue (lost to crooked neck at 8 wks). I no longer have the black roo (he died). I did a brother/sister mating, see (pic1 original post) of 3 separate clutchs and each clutch is different. 1st clutch, 1 solid powder blue (died 4 hrs after hatch), 1 powder blue ,white wings - turned white, and one blue & buff? (strong orange colour). Clutch 2- 1- blue like father, 1- you say is lav, 1- like her but a bluer tone (died at 3 wks), 1- some sort of albino?, eyes normal no colour in beak, legs faint hue, skin pink, hatched completely yellow (no other whites ever have.) All in this clutch had pale pink combs,wattles and the blue and the albino? combs are bright now as they're roo's. The 3rd clutch has 1- blue (could be dark splash as blotchy still), 1- blue splash, and the 3 unidentified colours all have normal coloured wattles,combs. Given nothing has turned out as expected and I'm a total beginner with colour genetics I need help please.
*How can the brother/sister parents be a blue roo and splash hen and produce this variety?
*If hen is lav, will any particular matings reveal if any others in the 3 clutches carry lav?
*If there is and mated to her would the odds of lavender be higher than current 1 in 10, as I have limited space here so can't keep all the roos in these 3 cluches.
The first clutch are both roo's, second clutch 2 roos + lav hen and clutch 3 has a blue roo(maybe dark splash as appears mottled still), blue splash hen, 1 pale coloured hen, 1 probable roo, 1 unsure yet (please be a hen).
I have added some clearer pics of paler chicks for ID, if anyone has ideas.
Attachment: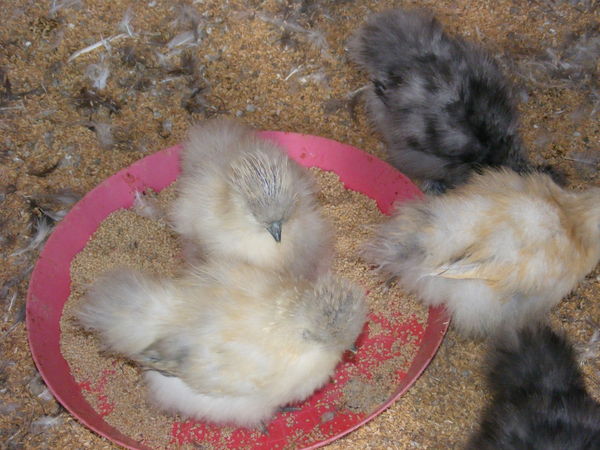 resize, clutch 3 chicks.jpg [ 73.36 KiB | Viewed 3073 times ]
[attachment=1]rs clutch 3 - the darkest of the 3 pale chickens.jpg
[attachment=0]rs clutch 3, lightest of the 3 pale chickens.jpg